La Grande Motte, the unusual, XXth Century Heritage
At 20 minutes from your hotel.

With her buildings shaped as pyramids reminiscent of Teotihuacan in Mexico, La Grande Motte has put her extravagant architecture in the service of her inhabitants.

Created in the late 60s by the architect Jean Balladur, those pyramid buildings of La Grande Motte quickly became the symbol of the city and attract tourists from all over France.
Real cultural city, she also received in 2010 the label "Heritage of the twentieth century" by the Ministry of Culture.

But along La Grande Motte are also miles of beaches and sunshine rates among the highest in France (more than 300 days per year). Sports enthusiasts can enjoy sailing, scuba diving, water skiing, kite surfing, etc ...

The Montpellier East Hotel, just 20 minutes from the Grande Motte, is the perfect place to visit this enchanting city. Do not hesitate to contact us!

In older times, the current territory of La Grande Motte belong to Mauguio's land, it split in 1974. At this time, this area was little used by men as it was a swamp infested with mosquitoes and isolated surrounding villages on the Etang de l'Or.
The proposed construction of this resort is part of the Root Mission whose aim was to divert tourists destinations of the Spanish era. The project is much-maligned Jean Balladur at the time because it breaks with the tradition of the picturesque seaside towns architecture:

His work is especially marked by buildings ziggurat like recalling the pre-Columbian pyramids (especially inspired by the famous pyramids of Teotihuacan, Mexico) and modern architecture in Brazil. The purpose of these pyramids at 60 ° is to provide different every resident who has a balcony and terrace on each floor and achieve a smooth transition between the coast and the mountains of the Cevennes views.

In 1965, the first machines dredging appear on the wetland to dig the pond and the port du Ponant and draw the necessary embankment providing the foundation for future city materials. On October 24, 1967, General de Gaulle, who landed by helicopter, just visit the site of the Grande Motte. In 1968, the first pyramids appear on the port (Le Provence - Le Grand Pavois) and on the beach (The Reymar - Languedoc). Between 1973 and 1974, the Great Pyramid is
the inverse reflection of the Pic Saint-Loup was built north of the port sector. Then in July 1975 unfolds the laying of the foundation stone of the Church of St. Augustine, one of the bells, classified, seventeenth century, comes from the Cathedral of Nimes and also features in the arms attached to the famous crocodile his palm. The building construction took place over the next twenty years.
Back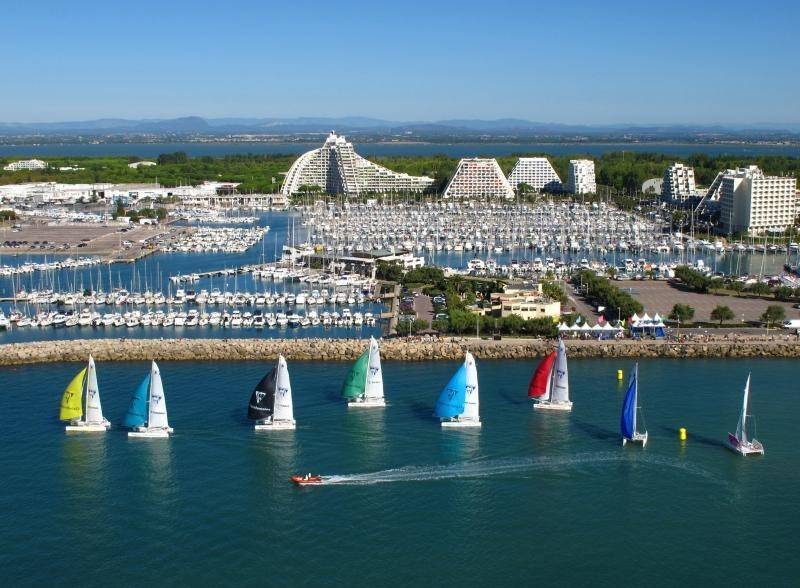 5